What Are Service Pages?
A service page is a dedicated page about a specific service that a business offers.
The goal if a service page is to show users that you offer the service they want, how great you are at providing the service, how much it costs and how to contact you to get the ball rolling.
If you are a local business you should have a dedicated page about each service that you offer. With local SEO, you'll need to target a location as well on your service pages.
Why Are They Needed for Local SEO?
I recommend creating service pages for each service that you offer. How else will users know you have what they are looking for?
Service pages give the site the opportunity to rank for all the services the business offers.
Example: A veterinarian would have separate pages for:
Grooming
Boarding
Dental
Vaccinations
Microchips
Neutering
Spaying
Dermatology
If you have more than one location, you may want to create unique service pages for each location, but don't go overboard with it.
If you have time, you should read Phil Rozek's article "You Offer 10 Services and Serve 10 Cities, So You Create 100 City Pages? Why City-Page Proliferation Is Dumb".
Must-Have Elements on Service Pages
There are quite a few things you can add to service pages to make them unique while also satisfying the user.
Service Page Checklist
I've created my own checklist here below that you can use in addition to his.
Each service page can include:
Explain what the service is in layman's terms
Describe the features and benefits
Go over the process (if there is one)
Tell users why you're the best choice
Share credentials or licenses you have related to the service

Examples: licensed and insured, certified in XX from XX

List FAQs about the service
Include reviews about the specific service
Add photos of the service and / or work being done by your team
Show off the team that performs this service with more photos
List related services users might be interested in
Definitely include a CTA
If you have more than one business location make sure to differentiate each service page with with the following information:
Business name, address and phone number
An embedded Google Business Profile listing of the business name (not just the address). Driving directions might be a Google Maps ranking factor. Make sure to embed the correct Google Map on your site.
Examples of Great Service Pages
Here's an example of a lawn care company that has a fertilizing service page targeting St. Pete, FL.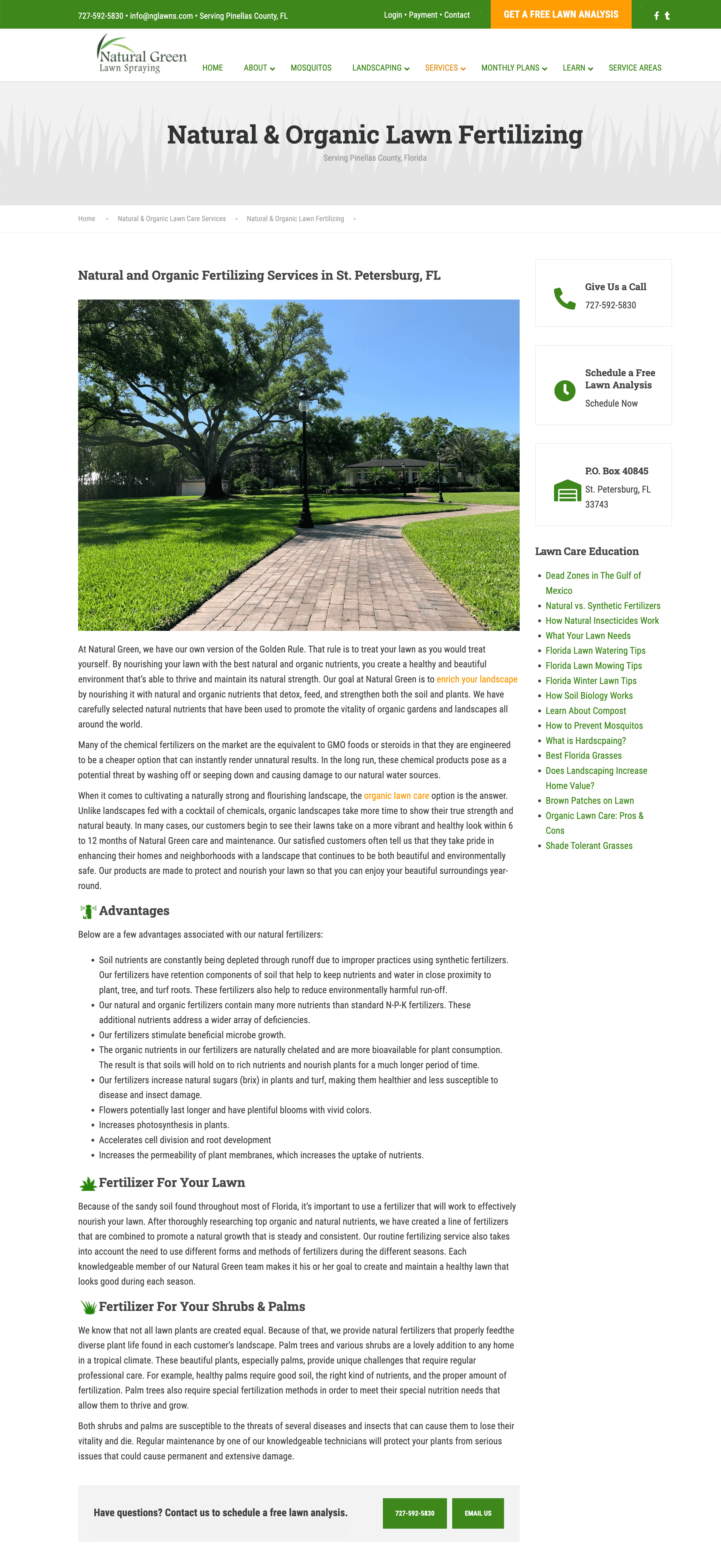 Here's an example of an ice dam removal company targeting the Minneapolis area.

Other Service Page Examples
Another example: An HVAC company in Napa, California would have separate pages for:
AC Repair in Napa, CA
AC Installation in Napa, CA
Heater / Furnace Repair in Napa, CA
Duct Cleaning in Napa, CA
Air Purification Systems in Napa, CA
Service Page Experts
In conclusion, if you're a local business, I recommend creating unique location pages for each one so that you can grow your organic traffic!
At CONTENTAMIGO our focus is creating stellar local SEO content. If you need assistance finding the right keywords to target on a local level or need service pages created, we'd love to help! Just place an order!