What Are Service Pages?
A service page is a dedicated page about a specific service that a business offers.
The goal if a service page is to show users that you offer the service they want, how great you are at providing the service, how much it costs and how to contact you to get the ball rolling.
If you are a local business you should have a dedicated page about each service that you offer. With local SEO, you'll need to target a location as well on your service pages.
This brings us to our next topic. What if we need multiple service pages in order to target multiple cities?
Example:
HVAC Contractor in Tampa, FL
HVAC Contractor in Clearwater, FL
HVAC Contractor in St. Pete, FL
If you have more than one location, you may want to create unique services pages for each location, but don't go overboard with it.
If you have time, you should read Phil Rozek's article "You Offer 10 Services and Serve 10 Cities, So You Create 100 City Pages? Why City-Page Proliferation Is Dumb".
What Is Duplicate Content in Local SEO?
If a website has two pages that are exact copies of each other, or if the majority of content on both of those pages is the same, this would be considered duplicate content.
When it comes to local SEO, many businesses will create multiple service pages in order to target multiple cities. While this can be an effective approach, often times they are done poorly.
What I mean by that is that someone will create a service page for city #1, then make a copy of that service page for city #2, and then they only swap out the city name in the content.
That is not the best idea. It's highly possible that the work you just did will not pay off. These pages are unlikely to rank if they are seen as "low-quality" in Google's eyes. If two pages are 99% the same, then search engines will not see them as unique and may only choose to rank one of the pages, not all of them.
You catch my drift?
Can Service Pages Be Considered Duplicate Content?
Yes, they absolutely can be! But that's only if they are not done properly. If you invest time into make them unique, they won't be considered duplicate content.
The same principle applies to making unique location pages and making unique service-area pages.
How to Make Unique Service Pages if You Have Multiple Locations or Service-Areas
It's not hard to make service pages unique. But it does take some manual effort. That's why many people end up doing it the lazy way (copy a page and swap out the city name).
But if you want the time and effort you put into creating service pages to pay off, then I recommend making each page as unique as possible.
Don't forget, these pages should actually be helpful to users also.
Service Page Checklist
Each service page can include:
Explain what the service is in layman's terms
Describe the features and benefits
Go over the process (if there is one)
Tell users why you're the best choice
Share credentials or licenses you have related to the service

Examples: licensed and insured, certified in XX from XX

List FAQs about the service
Include reviews about the specific service
Add photos of the service and / or work being done by your team
Show off the team that performs this service with more photos
List related services users might be interested in
Definitely include a CTA
If you have more than one business location make sure to differentiate each service page with with the following information:
Business name, address and phone number
An embedded Google Business Profile listing of the business name (not just the address). Driving directions might be a Google Maps ranking factor. Make sure to embed the correct Google Map on your site.
Service Pages: Unique Content Template
Use this free Google Sheets template to create unique content if you need to create multiple service pages!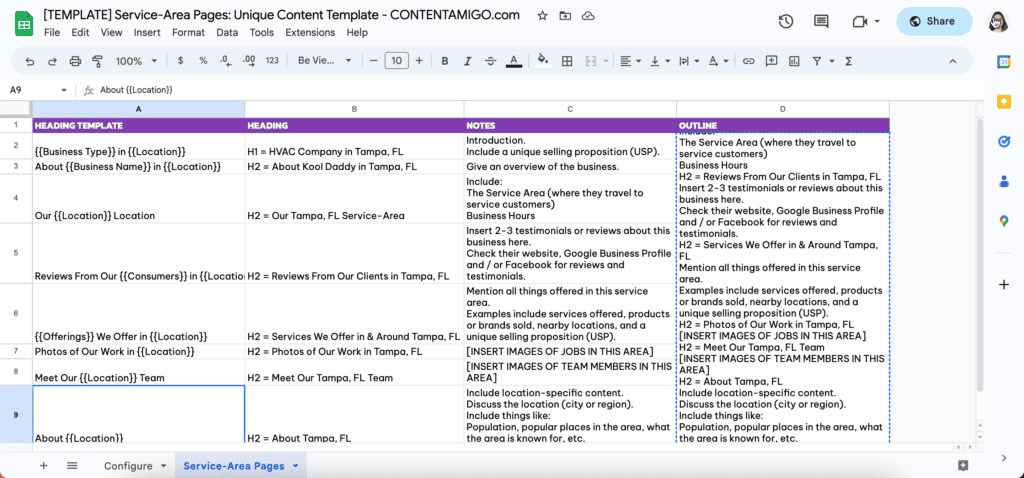 Service Page Experts
In conclusion, if you're a local business, I recommend creating unique location pages for each one so that you can grow your organic traffic. But make sure each one is unique!
At CONTENTAMIGO our focus is creating stellar local SEO content. If you need assistance finding the right keywords to target on a local level or need service pages created, we'd love to help! Just place an order!