What Are Practitioner Pages?
A practitioner page is a dedicated page about a person at a company. Think of it as an "about me" page. These pages may also be known as team member pages or bio pages.
For example, according to Google, a doctor, dentist, lawyer, financial planner, insurance or real estate agent can be considered a practitioner.
If you are a local business you should have a dedicated page for each notable member of your team.
Why Are They Needed for Local SEO?
I recommend creating practitioner pages for each notable person at your company.
The goal of a practitioner page is to get users familiar with members of your team. This builds trust which can help your conversion rates.
Practitioner pages can also be very powerful when used as Google Business Profile landing pages on practitioner listings.
Must-Have Elements on Practitioner Pages
There are quite a few things you can add to practitioner pages to make them unique while also satisfying the user.
Practitioner Page Checklist
I've created my own checklist here. Each practitioner page can include:
Who the person is
Their education and training
Experience and qualifications

Examples: licensed and insured, certified in XX from XX

Specialties and focus
Hobbies or personal facts
Include reviews about the person
Locations they serve
How to contact them
An embedded Google Business Profile listing of the practitioner listing (not the main business listing). Driving directions might be a Google Maps ranking factor. Make sure to embed the correct Google Map on your site.
Examples of Great Practitioner Pages
Here's an example of a trial lawyer in Tampa, FL.

And here's an example of an optometrist in Florida.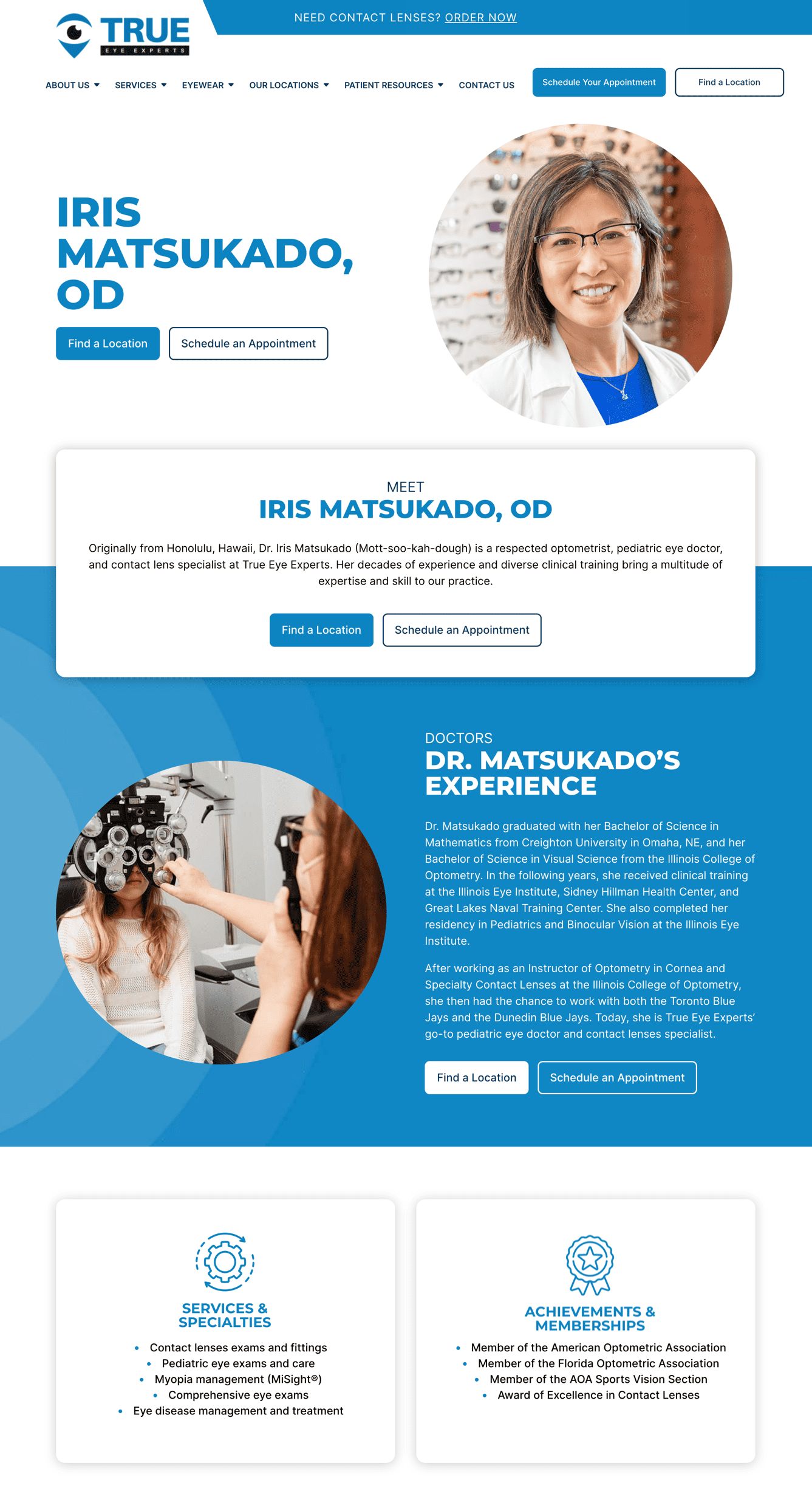 If you still want more inspiration, check out these two pages:
https://www.mikeglaw.com/about/
https://legacyclinic.com/our-physicians/peter-miller-m-d/
Other Practitioner Page Examples
Another example: A law firm in Vacaville, California would have separate practitioner pages for:
Bob Smith: Immigration Attorney in Vacaville, CA
Sarah Smith: Real Estate Attorney in Vacaville, CA
John Mack: Tax Attorney in Vacaville, CA
Practitioner Page Experts
In conclusion, if you're a local business, creating unique practitioner pages can help grow your organic traffic, increase conversion rates, and possibly assist GBP rankings.
At CONTENTAMIGO our focus is creating stellar local SEO content. If you need assistance finding the right keywords to target on a local level or need practitioner pages created, we'd love to help! Just place an order!